— Informed by expert input from rare disease patient groups and other stakeholders, White Paper highlights ongoing need for incentives to drive innovation in rare disease treatments, particularly treatments for the smallest patient groups —
— Rising numbers of orphan drug approvals are a sign of success, but patients and the broader health system are struggling with the cumulative effect of high orphan drug prices —
— The White Paper presents an analysis of the potential risks and benefits of reforms seeking to strengthen evidence on orphan drugs and to ensure that adequate incentives for orphan drug development are coupled to a more sustainable long-term trajectory for orphan drug pricing —
The White Paper examines the potential risks and advantages of reforms to current policies related to orphan drug development, pricing, and coverage.
"Since its passage, the Orphan Drug Act and accompanying scientific advancements have successfully increased the number of treatments available for patients with rare diseases, but tremendous unmet need remains," said Steven Pearson, MD, MSc, President of ICER. "As a society, we must prioritize ongoing innovation and drug development for rare diseases—particularly those conditions with no available treatments today. Treatments for ultra-rare conditions remain particularly elusive, as current market dynamics often make it challenging for manufacturers to bring these products to market. However, at the same time, there are widespread concerns about the perceived weakening of evidence requirements for orphan drugs, and questions are being raised about whether the health system can sustain access to orphan drugs if current pricing trends continue as the cumulative number of orphan drugs increases. To secure a future in which innovation and affordability are both ensured, policymakers are going to have to consider potential reforms."
The White Paper does not advocate for specific policy proposals. Instead, it analyzes the potential benefits and risks of reforms that might serve to reshape the incentives for orphan drug development in a way to improve evidence generation, boost the chances for treatments of ultra-rare diseases, and reduce the prices for treatments whose clinical benefits do not merit traditional "orphan drug" level pricing. The goal was to provide policymakers with an evaluation of different policy reform options and ensure that potential risks and benefits are both examined closely.   
This White Paper went through several iterations following ICER's Policy Summit in December 2021. At that meeting, policy leaders from rare disease patient groups joined with ICER's Policy Leadership Forum (PLF) — comprising senior policy leaders from 30 payer and life science companies — and discussed a preliminary draft, debated the reform proposals, and provided suggestions for revisions to the paper. None of these individuals, nor their organizations, should be assumed to support any part of this report, which is solely the work of the ICER team and its affiliated researchers.
The White Paper analyzes the potential policy reforms below: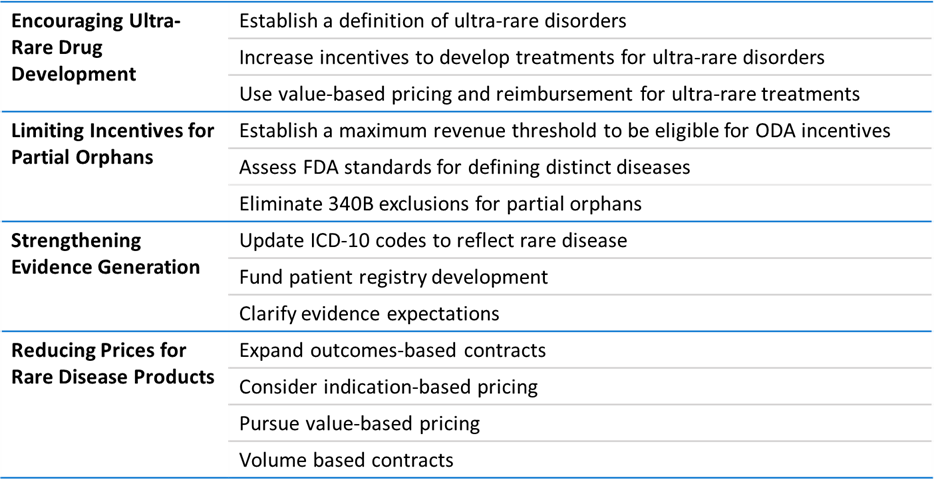 The Institute for Clinical and Economic Review (ICER) is an independent non-profit research institute that produces reports analyzing the evidence on the effectiveness and value of drugs and other medical services. ICER's reports include evidence-based calculations of prices for new drugs that accurately reflect the degree of improvement expected in long-term patient outcomes, while also highlighting price levels that might contribute to unaffordable short-term cost growth for the overall health care system.